Most of the pictures are gathered from around the web, if I am using something I shouldn't be, please contact me. Also If I am saying something that isn't correct contact me too. Or if you like what I'm saying, are an Al Pacino fan, Are interested in the performing arts and drama (like I am), or if you know anything of Al's future roles! Hm. I guess what I'm getting at is - here is my e-mail address.

E-mail Me!
Oh yeah, sign the guestbook, too.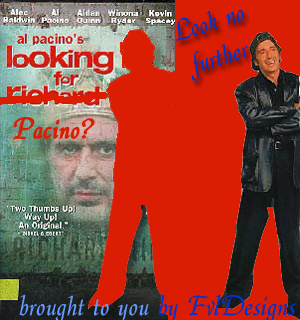 be sure to check out this new site!
Thank you kindly to all my guests who have made such kind remarks in the guestbook and who keep on visiting. My Guestbook was deleted. I am more than a little upset, but please make me feel better, by signing the new one. :-)